Houseboats, Cruisers, Pontoons, Hulls and Pylons.
Anode-Tech produce a range of HullGuard anodes that suit houseboats, cruisers, pontoons and hulls in fresh water. Anodes for sea water also available.
How Effective is your boat's Electrolysis Protection?
If you are still using the old fashioned and inefficient cast magnesium anodes, the answer would have to be "not very".
Why wouldn't you install the world's most efficient anodes to protect your investment, particularly if that efficiency is available for no extra cost?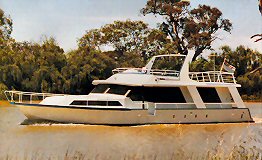 Throughout the world there has been a move towards "extruded" magnesium sacrificial anodes from the old standard "cast" ones due to their immense increase in efficiency. This increased efficiency comes through the far greater "purity" of the extruded material than foundries are able to achieve with normal casting methodology, up to 70% greater!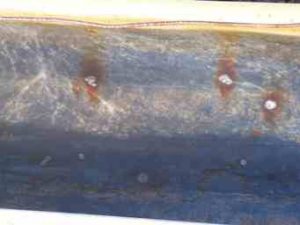 This is just what you don't want to see on your pontoons or hull. This images shows what electrolysis looks like.

This is a cast magnesium anode – nearly 40% of this anode was consumed through internal corrosion of its own impurities and was not available to protect the boat from electrolysis.

In comparison, this is a modern extruded magnesium boat anode (Model EBA333M2)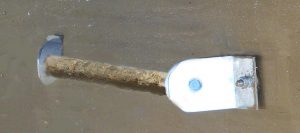 This is the same anode, years later and still showing a completely even material consumption
HullGuard Kits Available  (Freshwater applications only)
Model No. EBA122M2

65mm x 122mm Engine pod anodes
Complete with tapered ends and mounting brackets

Model No. EBA122M2

65mm x 122mm Engine pod anodes
Complete with tapered ends and mounting brackets

Model No. EBA40M2

65mm x 20mm Rudder anodes.  
Complete with mounting bolts, nuts & washers.
Mounted one each side of rudder to minimize water drag  
HullGuard magnesium anodes are made from "Galvomag" – the established world standard for quality in the cathodic protection industry.
HullGuard anodes are designed to interchange with the mounting points provided on your boat for the old anodes. If not suitable, anodes can be provided to match. If bolt size and bolt spacing measurements are given, the replacement anodes can be pre-drilled ready to fit.
Notes
HullGuard anodes conform to Australian Standard AS2239. This standard advises that the by-products of magnesium anodes commonly used in "portable water applications" are non-toxic.