Sacrificial Anodes for Galvanized Iron and Zincalume Water Tanks of all Sizes.
Anode-Tech produce a range of rain water tank anode kits that suit all "Modular" and "Round" domestic tanks of all sizes.
This includes a range of suspended-style anodes which suit large-size squatter and rural tanks containing either rain or ground water.
Water type must be nominated when ordering as different anodes are required for ground, bore or river water.
Modular Tanks [Rectangular]
Tank height
Length
Capacity
Kit part number
840mm
(2'9″)
600-1740mm
(2'0″-5'9″)
400-1650L
(90-360gal)
ANK690/21S
1140mm
(3'9″)
1140-2340mm
(3'9″-7'8″)
750-2200L
(165-500gal)
ANK970/21S
1120-1140mm
(3'8″ – 3'9)
2340-2470mm
(7'8″ – 8′.0″)
1500-2200L
(340-500gal)
ANK970/21S2
(Double anode kit)
Round Corrugated Tanks
Tank height
Diameter
Capacity
Kit part number
650mm
(2'0″)
950mm
(3'2″)
450L
(100gal)
ANK500/27R
1250mm
(4'0″)
950-2150mm
(3'2″-7'1″)
900-4450L
(200-1000gal)
ANK1100/27R
1870mm
(2'0″)
950-2530mm
(3'2″-8'4″)
1300-9400L
(300-2000gal)
ANK1720/27R
2480mm
(8'0″)
1400-2530mm
(4'7″-8'4″)
1300-12500L
(300-2800gal)
ANK2330/27R
1870mm
(6'0″)
2800-3500mm
(9'4″-11'6″)
11700-18000L
(2500-4000gal)
ANK1720/21R2
(Dual Anodes)
2480mm
(8'0″)
3000-3400mm
(10'0″-11'2″)
17500-22500L
(4000-5000gal)
ANK2330/21R2
(Dual Anodes)
3100mm
(10'0″)
3000mm
(10'0″)
22000L
(5000gal)
ANK2890/21R2
(Dual Anodes)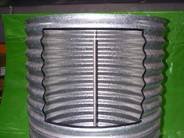 Tank with cutaway section showing "domestic" suspended anode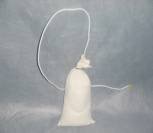 "Bagged Anode"
used to protect external surfaces on ground mounted rural tanks.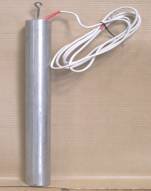 "Suspended Anode"
for large squatter and rural water tanks.
Each kit comprises of …
Either a 21mm, 27mm, 33mm or 65mm diameter Magnesium sacrificial anode
Suspending copper cable
Tank roof fastener
Tek screws
Nut setter
Installation and maintenance instructions
Please note: Some kits contain dual anodes. A single anode kit may be substituted but will require more frequent replacement.
Specifications
Anode Material:
Designated rain water M1 high potential extruded magnesium rod to AS2239-2003 OR
Designated ground water M2 low potential extruded magnesium rod to AS2239-2003
Cable: P.V.C. coated 7/1.04 copper cable of appropriate length with attaching eye.
Roof Fasteners: Hot dipped zinc, steel plate pre-drilled to take fasteners provided and provision for cable attachment.
Instructions: Detailed assembly and installation instructions are provided with each kit.
General
Anode Life: The life of the anode will vary through differing factors such as water quality, internal tank wall area to be covered and the condition of the internal walls.
For example, the anode will be required to work harder to protect an older degraded surface than for a new zinc or galvanised plated surface. A reasonable expectation in a new tank would be 10-15 years.
Replacement: It is recommended your anode be inspected on an annual basis and should be replaced when more than 50% of its central wire core is exposed through corrosion.
Application: Recommended for use in both new and existing water tank applications.
When used in new water tanks the anode acts as a backup defence against corrosion with the primary barrier being the galvanised surface of the tank.
When used in "older" tanks, the anode will progressively take over the job of protecting the internal surface from corrosion as the original galvanised surface deteriorates.
Notes
TankGuard internal anodes installed as directed do not protect the external tank surfaces. A bagged anode is required in this situation.
TankGuard anodes conform to Australian Standard AS2239. This standard advises that the by-products of magnesium anodes commonly used in "potable water applications" are non-toxic.